Solventless products are proving to be essential elements to scores of cannabis businesses as the nascent market takes shape. Solventless extraction-based products have long been sought after by cannabis connoisseurs, and as commercial scalability became more feasible, solventless processing began to appeal to a growing number of licensed cannabis processors and manufacturers. Put simply, if you are not producing solventless products of some variety, you do not have a premium extraction brand – period.low temperature pressing
While solventless still has room to grow in the market, there is no denying the quality of its wide range of products. Be it rosin, bubble hash, or a myriad of other topicals, edibles, and beyond, these pure cannabis oil-based items are essential in creating top of the line cannabis products. Speaking of products, solventless concentrates are an ideal base to develop several premium SKUs.
Solventless success extends well beyond SKU versatility. Consider some of the additional vital benefits your business stands to gain from solventless products like rosin:
Brand Identity: A portion of any consumer market is made up of connoisseur customers, and in cannabis, these influencers are very vocal. This type of clientele loves products that provide potent effects coupled with satisfying aromatic and flavor profiles, among other features. Even before the legalization wave, this type of consumer existed and has only become more apparent as the market has stepped further into the mainstream.
Today, these cannabis customers reflect craft beer consumers in many ways. Like craft beer, a cannabis brand can use the production of these premium products to either establish an identity as a top producer. Additionally, solventless products can help extend the brand's offering and its status as a premium craft provider. In either instance, your company can further its name on the back of superior solventless extracts.
Brand Loyalty: The demand for concentrates is growing. Even despite the minor setbacks from the vape crisis, market demand appears to remain healthy. It is fair to assume that customers are likely going to place an increased emphasis on product quality going forward. While solvent-based extraction methods do rid its end product of any chemicals used, it still means chemicals touched the product. By offering customers a top-quality product made using only natural elements, your business runs a strong chance of securing return buyers and a consistent client base.
An Easier, Cost Efficient Setup: We've said it before and we'll say it again: solventless processing is a safer, lower-cost entry point for cannabis producers. Solvent-based extraction requires extra safety measures for staff and the facility. With such risks, zoning restrictions can become a hassle as well, limiting where your venture can operate. Additionally, a solventless extraction lab can launch in the four to five-figure range. In contrast, a chemical extraction lab is almost assuredly going to run your business six figures to start.
We'll expand on those additional benefits in articles to come. But this article aims to dive into SKUs a bit more. Namely, we'll touch on the solventless SKUs your business could develop and how to set your operation up for success.
Why Focus on SKUs?
As we touched on a bit above, solventless concentrates help serve as a foundation for your brand's SKU versatility. And that diverse offering of products is essential in profiting. As the MJ Biz Factbook 2019 mentions, companies offering just one to six products give themselves little room to profit or even break even. When providing one to three SKUs, brands reported being unprofitable almost 75% of the time. Those offering four to six faced the same fate at just under 50% of the time.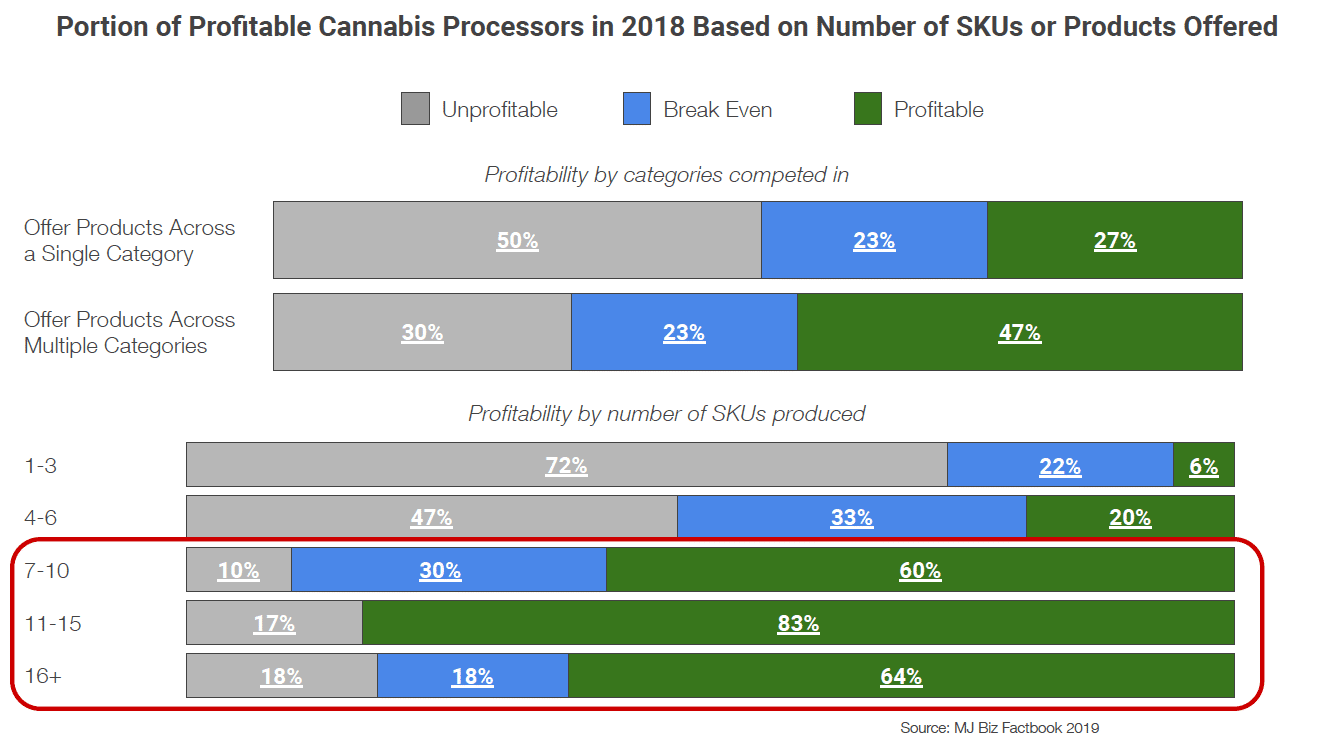 On the other hand, companies offering seven of more SKUs reported profiting more often than not. This is particularly true for those that offered 11 to 15 products, which seemed to be the sweet spot in 2018. Of those reporting, 83% said they profited while just 17% did not. There were no break evens reported for this segment.
A Variety of Rosin SKUs
By now, it should be clear that there is no shortage of variety when it comes to solventless rosin-based SKUs. We're a bit fond of rosin at the PureCannalabs headquarters, and we think other ventures should be as well. While all solventless extractions offer options, rosin seems to take the cake.
Consider some of the options you can create using these different types of rosin:
Hash Rosin Badder: Known more commonly as budder, hash rosin badder is a waxy concentrate regarded for its consistency. Budder is easy to handle and spreads smoothly, making it a popular option at numerous dispensaries and online retailers.
Rosin Diamonds: A two-step process creates rosin diamonds, or extracted THCA cannabinoids that are often recombined into concentrates. "Sauce" is the preferred option of many for its incredible aromas, flavor and all-around aesthetic, which is largely made of pure solventless liquid terpenes and cannabinoids.
Jar Tech/Natural Terpene Separation: Instead of isolating a cannabinoid, jar tech is a more complicated process that separates terpenes from hash or sift rosin. Jar tech extractions are ideal for combining with other products for unique creations.
Flower Rosin: Likely the easiest process of the bunch, flower rosin is a classic method that uses low temperature pressing to extract creamy-textured concentrates. Watch out, it can become budder if exposed to the elements.
This is just the tip of the solventless iceberg! Once you've explored rosin, be sure to delve into other solventless concentrates to get a full understanding of this section of the market and its immense value.
Let's Talk Setting Up for Success
Our cannabis experts are your cannabis experts. The PureCannalabs team offers you a range of experts that specialize in every segment of the business you need to thrive.
We're ready to provide your business with a turnkey lab that takes you from conception to completion. Our experts are also happy to assist via phone, video or on-site consulting with a range of topics, including:
Workflow Efficiency
Equipment Sourcing & Installation
Specialized Extraction Techniques
Marketing & Brand Strategy
SOPs, Regulatory Compliance & Licensing
So, whether improving your current lab, or looking to start brand new, the PureCannalabs team is ready to get your solventless processing operation off the ground and running in the right direction. Contact us today for your free consultation!